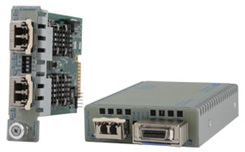 10Gbps Protocol-Transparent Media Converter
The iConverter XG is a 10 Gigabit, protocol-transparent media converter with two pluggable transceiver ports supporting the three R's (regeneration, retiming and reshaping). By taking advantage of the wide variety of 10G pluggable transceivers, the iConverter XG can be used as a copper-to-fiber converter, a fiber mode converter or a WDM transponder.
The iConverter XG can be used in Telecom or Enterprise applications where 10 Gigabit media conversion and fiber extension is required. The product supports 100% traffic throughput and has no packet size restrictions. It is protocol transparent within the range of 9.95Gbps to 11.32Gbps, providing interoperability with common protocols including 10G Ethernet, 10G SONET/SDH, 10G Fibre Channel and 10G OTN (G.709).