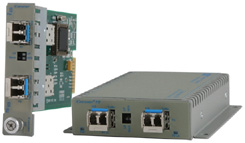 SFP to SFP Managed Protocol-Transparent Fiber Converter
The iConverter xFF is a protocol-transparent media converter that provides reliable and cost-effective conversion between different wavelengths, multimode and single-mode, and dual and single-fiber.
The iConverter xFF operates as a protocol and rate-transparent device, supporting Small Form Pluggable (SFP) transceivers with data rates from 1Mbps to 4.25Gbps. The xFF supports a variety of network protocols, including Ethernet, Fast Ethernet, Gigabit Ethernet, SONET (OC-3/12/48), SDH (STM-1/4/16) and 1x/2x/4x Fibre Channel protocols.