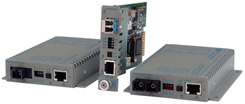 T1/E1 Managed Media Converter
The iConverter T1/E1 media converter provides standard T1 (1.544Mbps) or E1 (2.048Mbps) copper to fiber conversion and can be used to extend the demarcation point between service provider and networking equipment. T1/E1 media converters operate in pairs, extending distances over fiber, which improves noise immunity, quality of service, intrusion protection and network security.
The T1/E1 supports Small Form Pluggable (SFP) transceivers, enabling adaptability to different fiber types, distances and wavelengths, providing maximum flexibility across a variety of network architectures and topologies. Support for SFP transceivers increases the bandwidth capacity of fiber access infrastructure by incorporating Coarse Wave Division Multiplexing (CWDM) technology. CWDM SFPs provide wavelength conversion enabling multiplexing of up to 16 wavelengths on the same fiber pair. The same media converter can utilize a variety of SFPs for different wavelengths and distances, reducing costs and simplifying inventories.
The T1/E1 also supports a variety of fixed fiber connectors for multimode, single-mode and single-mode single-fiber.