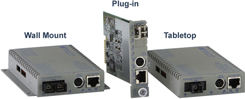 10/100 NIDs with Integrated Management
The iConverter 10/100M2 is a 10/100 UTP to fiber converter with integrated IP-based and Remote OAM (Secure IP-less or 802.3ah) management designed for FTTX Metropolitan Broadband, Enterprise edge and industrial control applications. The 10/100M2 is available as a plug-in module, or as a standalone wall-mounted or tabletop unit with optional DIN-rail mount. As a standalone Network Interface Device (NID), it provides a managed demarcation point. As a plug-in module, it can manage a chassis of modules or be managed as a regular converter by another management module. The 10/100M2 supports dual or single-fiber with fixed or Small Form Pluggable (SFP) fiber transceivers.
The 10/100M2 supports rate limiting at 64k increments, L2CP filtering and 2,048 byte maximum frames.