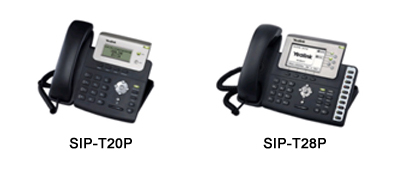 Entry Level IP Phone SIP-T20P,Executive IP Phone SIP-T28P
SIP-T20P is equipped with TI TITAN chipset and 2x15 characters LCD, offers 2 VoIP accounts, high-definition voice, broad range of voice codecs, security protection for privacy, rich features including XML phonebook, headset, PoE, PnP Auto-provision, and seamlessly work with the leading IP-PBX and soft switch.
It allows users to make calls in a simple, convenient and reliable manner and fully meet the requirement in which the basic business features are required. What is more, SIP-T20P is easy to install and inexpensive to start up for corporate office and residential users.
Yealink SIP-T28P represents the next generation VoIP phone which designed for the business user who needs rich telephony features, friendly UI and superb voice quality. It is equipped with the leading TI TITAN chipset, offers high definition voice quality through TI voice engine, HD handset, HD speaker and HD codec (G.722). By the large, high-resolution graphical display, and together with all the 48 keys, SIP-T28P offers an excellent user experience to configure, make calls, etc. Moreover, to avoid problems with unwanted violations of your audio data, Yealink SIP-T28P supports the security standards TLS, SRTP, HTTPS, and AES encryption which are necessary to protect against electronic eavesdropping and data theft.